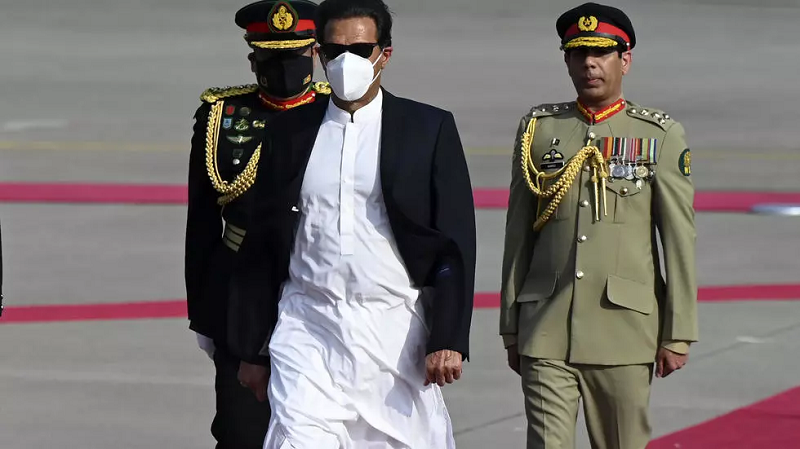 Retired brigadier calls Imran Khan a 'compulsive liar'
CARACHI:

A former master of corruption, who was accused by the PTI president of being involved in political engineering during the 2013 elections, said he considered it below him to respond to allegations of a "compulsive liar like Imran Khan".
Imran Khan – who was ousted as prime minister in a no-confidence vote earlier this year – has repeatedly accused Brigadier (retired) Muzaffar Ali Ranjha, former chief executive of the Punjab Anti-Corruption Establishment, of manipulating the 2013 elections in favor of the PML-N led by Nawaz Sharif.
Ranjha was removed from office by the interim government of Punjab just before the 2018 elections because he was seen as a blue-eyed officer of Shehbaz Sharif.
"These are baseless allegations of a liar. I consider it below me to respond to such allegations," Ranjha said in a television interview on Friday. "But since he publicly made these allegations, I have to answer."
Ranjha proposed to Imran to agree to the formation of a commission which should investigate the accusations of vote manipulation. "Before that, we should both sign an affidavit that anyone found guilty would face the death penalty," he added.
"I had first made this offer in May [2018]. At that time, when the media asked him about it, he said, 'That was my political statement,'" he added. "He remained Prime Minister for four years, but did not raise this issue during his reign. Now he rakes in that question again. The goal is to make our maternal institution controversial," the retired brigadier said, referring to the military.
Lily Imran fraudulently acquired 'objectionable videos' to blackmail NAB chief Maryam
When asked why Imran was resurrecting this issue, Ranjha said, "I believe he lost his mind after losing power. This man was never in favor of the armed forces. He only flirted with the army. Now, since the military broke away from politics, he throws out allegations haphazardly. He advised the nation "to ignore the outlandish allegations of a pathological liar like Imran".
He recalled that Imran had told a "very senior official in state institutions" in 2018 that he would not repeat his allegations because it was a "political statement" and that he would not had no supporting evidence.
"If he [Imran] open your mouth again, then I'll go to a public forum and spill the wick. He should realize that I know everything about him because I also served as an intelligence officer," Ranjha said.
"I'm going to take him to court. I will also take it to other forums because this man has a habit of randomly throwing allegations and getting away with it," he said, recalling how Imran made allegations against Najam Sethi and Shehbaz Sharif.
"If things are in his favor, then everything is fine. But if things don't go in his favor, then the whole world is wrong.
Ranjha claimed he had a "spotless career" and could take on anything. "He [Imran Khan] is a morally, financially, intellectually and socially corrupt person. I am a respectable person. It is below my dignity to respond to such a pathological liar," he added.
Ranjha added that Imran considers himself a great politician. "I challenge him to run for office against me. I will defeat him," he said, throwing down the gauntlet.